Aesthetic Medicine Malaysia
What is Medical Aesthetic
Medical Aesthetic or Aesthetic Medicine is an inclusive terminology that refers to the medical practice which embraces multidisciplinary modalities that are dedicated to the creation of a harmonious physical and psychological balance through non-invasive, minimally invasive, and invasive treatment modalities. All these modalities are founded on the available medical evidence. Medical aesthetic treatments focus on the anatomy and physiology of the skin and its underlying structures. The primary goal is to modify the otherwise "normal" (non-pathological) appearance of the skin so as to satisfy the goals of the patient. Only registered medical practitioners are allowed to carry our medical aesthetic procedures in Malaysia.
Who Can Perform Medical Aesthetic Procedures in Malaysia?
Traditionally, most of the medical aesthetic procedures are performed by beauticians or fly-in doctors from overseas who are employed by the various local beauty center. This approach poses a great risk to the general public that seeks these medical aesthetic treatments. The challenge with most beauticians is that they lack formal training in performing some of these procedures or to recognize and deal with any potential complication that might arise from the treatments. Employing foreign doctors to perform medical aesthetic procedures poses an unimaginable risk because these medical practitioners often offer more invasive treatments such as facelift, liposuctions, eyebrow or double eyelid surgery. Not only is the credibility of these doctors questionable but the procedures are often performed in non-sterile environments like hotel rooms and beauty salon. Such working environments greatly increases the risk of infection and other complications.
There has been a growing demand for medical aesthetic procedures in the region. In addition, recent aesthetic reports reveal adverse outcomes including disfigurements and even death that arise from aesthetic procedures that are performed by incompetent medical and non-medical practitioners. The Ministry of Health (MOH) Malaysia has recognized the potential risk that comes along with unchecked and unregulated aesthetic practices. As a result, the MOH Malaysia formulated precise guidelines on aesthetic medical practice to give current and relevant pointers with an intention of regulating this medical aesthetic field.
The guidelines stipulate that aesthetic medicine is a special area of interest in medicine and registered medical practitioners can choose to pursue it after their formal medical training and completion of the compulsory service to the Malaysian Ministry of Health (MOH). A "registered medical practitioner" is defined as a medical expert or doctor who is registered and holds a valid practicing certificate under the Medical Act 1971 [Act50]. MOH requires medical doctors to show prove of their proficiency in the field of medical aesthetic and undergo stringent assessment prior to awarding them the Letter of Credentialing and Privileging (LCP) in aesthetic medicine for them to practice aesthetic medicine independently.
Today, there are many medical aesthetic clinics around Malaysia run by certified medical aesthetic physician and quality of medical aesthetic procedures in the country has improved tremendously. Hence, the next time you thought of doing some aesthetic procedure, make sure you check if the practitioner is certified. Never be afraid to ask the practitioner directly if you are in doubt.
You can also check if your doctor is a registered medical doctor licensed to practice in Malaysia at Malaysian Medical Council website.

If you are a General Practitioner in Malaysia and wanted to include medical aesthetic treatment into your services, you will require to obtain the LCP in Aesthetic Medicine. Learn how GP can apply for LCP in Aesthetic Medicine here.
How To Tell Apart A Registered Clinic or A Beauty Centre?
How days, it is not easy to tell apart a medical aesthetic clinic and a beauty centre. This is because most medical aesthetic clinics do not have the typical boring clinic design that we are used to. In addition to that, many beauty centres are using words like "doc", "medical", "laser" and "Aesthetic" in their brand name. Some doctors even resorted to opening beauty centres to avoid tedious restriction and monitoring by Ministry of Health. We would like to give you a simple tip to tell determine if a centre you are visiting is a registered medical premise or it is a beauty centre. Just look closely at its signboard.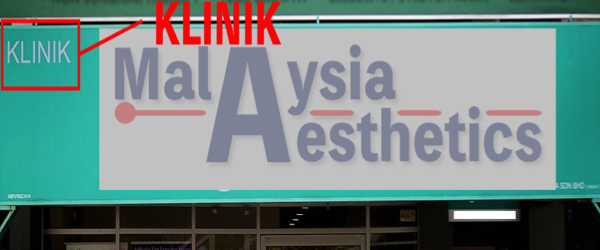 A REGISTERED MEDICAL OR MEDICAL AESTHETIC CLINIC WOULD HAVE THE WORD "KLINIK" OR CLINIC AT THE LEFT-HAND CORNER OF THEIR MAIN SIGNBOARD.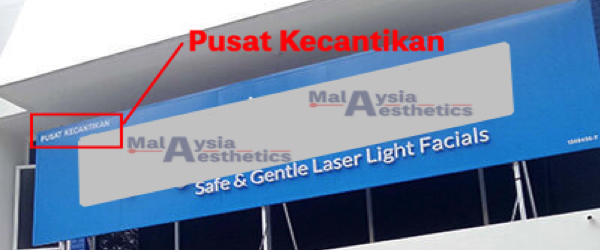 A PREMISE REGISTERED UNDER BEAUTY CENTRE WOULD HAVE THE WORD "PUSAT KECANTIKAN" OR BEAUTY CENTRE AT THE LEFT-HAND CORNER OF THEIR MAIN SIGNBOARD.
Is it Important to Choose a Medical Aesthetic Clinic?
Some may ask; is it important to go to a clinic for a medical aesthetic procedure? After all, beauty centre might offer cheaper than market price treatment. We at MalaysiaAesthetic.com strongly recommend that because:
1: Clinic premises are under constant supervision by the ministry of health to ensure the standard of practice.
2: Medical aesthetic clinics are usually run by a certified medical aesthetic practitioner. In fact, it is illegal for a registered doctor to provide medical aesthetic service out of his registered clinic.
3: A clinic is usually better equipped to handle any complication from the medical aesthetic procedure performed.
4: Products used in registered clinic are usually registered products.
If you are in doubt, do not be afraid to ask the receptionist or the practitioner whether the centre you go to is a medical aesthetic clinic premise or a beauty centre.