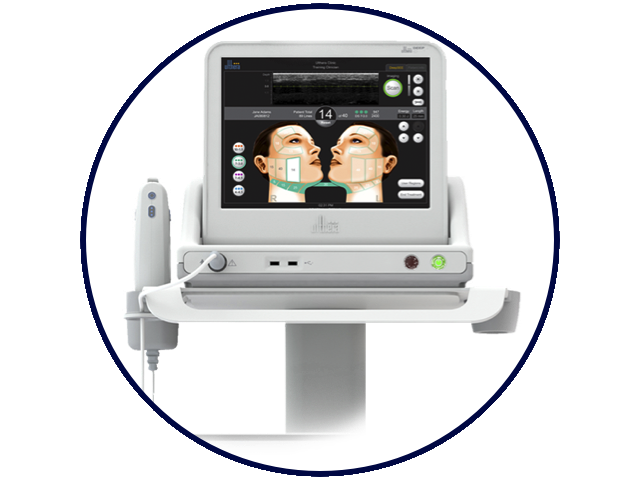 Ultherapy Malaysia – High Intensity Focused Ultrasound (HIFU)
High-intensity focused ultrasound (HIFU) is a non-invasive therapeutic technique that uses ultrasonic waves to heat up body tissues. Ultherapy is the only FDA-cleared device that uses HIFU to treat skin tissue, resulting in natural skin tightening and lifting, without surgery or downtime. This article will talk you through Ultherapy in Malaysia giving you in-depth information about Ultherapy.
Ultherapy Malaysia | What is Ultherapy and How it Works?
Ultherapy is the only non-invasive procedure FDA-cleared to lift skin on the neck, under the chin, and on the eyebrow. Now also FDA-cleared to improve the appearance of lines and wrinkles on the decolletage. Ultherapy uses the power of ultrasound to transform the brow, chin, neck, and chest.
Similar to a magnifying glass, Ultherapy brings together the harmless ultrasound energy, onto a small pinpoint area to heat the skin tissue. The heat generated stimulates collagen production resulting in skin tightening and lifting. Unlike lasers, radio-frequency, surgery and other skin lifting technologies, Ultherapy bypass the surface of the skin to deliver the right amount of ultrasound energy at the right depths with the right temperature. One key advantage of Ultherapy is that, Ultherapy can delivers its energy deeper into the skin compared to other non-invasive skin lifting technologies, without causing damage to the skin surface.
Equipped with DeepSee™ Technology, the doctor performing Ultherapy can see in real-time the anatomy under the skin that is being treated. This helps to avoid treatment of blood vessels or other underlying skin structure to avoid any unwanted complication.
Ultherapy Malaysia | What to expect?
Before getting an Ultherapy treatment, consult with your doctor regarding your aesthetic goals and understand how Ultherapy could benefit you. Ensure that the doctor performing the treatment is certified and the Ultherapy device is original. In recent years, there has been an influx of counterfeit Ultherapy machines circulating in the market. These counterfeit devices are not only ineffective, but they might also even be harmful. Look for the Ultherapy Authentic sticker or certificate prior to agreeing for a treatment.
During the treatment, the doctor may suggest several methods to reduce the discomfort during the procedure. Although Ultherapy comes with minimal discomfort during treatment, the pain is usually very much tolerable sedation or general anesthesia is not required.
During the treatment, the doctor will identify the specific area to be treated. Ultrasound gel will be applied to the treatment area and the Ultherapy treatment applicator will be placed against your skin. Next, your doctor will use Ultherapy's ultrasound imaging to first see deep within the skin to determine the optimal placement of the treatment energy, and then deliver the focused ultrasound energy beneath the skin's surface. During the treatment delivery, you will feel tiny amounts of energy being deposited deep into the skin. This indicates that the collagen-building process has been initiated.
Ultherapy treatment typically takes 60-90 minutes for a full face treatment. Depending on the treatment area, treatment duration may vary.
After the treatment, there is no downtime! You can return to your normal daily activities immediately after your procedure without any post-treatment restrictions. Your skin may feel warm and flushed at first, but the redness should disappear within a few hours.
Ultherapy Malaysia | The Result
Unlike a surgical facelift, the lifting and tightening result from Ultherapy is gradual and subtle. Besides skin lifting and tightening, you may experience improve skin quality after Ultherapy treatment due to new collagen formation. The best result from Ultherapy comes after about 3 months after your treatment. Results may vary among different individual.
Ultherapy Malaysia | The Cost of Ultherapy treatment in Malaysia
The cost for Ultherapy in Malaysia ranges from RM 8000 – RM 15000 for a full face and neck treatment. The cost is mainly determined by the number of "treatment lines" performed. For a typical full face treatment, typically 800 treatment lines are applied. More treatment lines translate to more collagen stimulation. Hence, always check with your doctor about the number of lines administered during your treatment to avoid being short-changed. 
Ultherapy Malaysia | Ultherapy Reviews
Based on real patients reviews on Ultherapy, Ultherapy scored 4.5 Stars over 5 Stars. Generally, patient satisfaction with Ultherapy is high and after trying Ultherapy, many will return for more Ultherapy treatment.
Ultherapy Malaysia | Where can I get Ultherapy in Malaysia
Ultherapy is available in some well-known skin and aesthetic clinics across Malaysia. As Ultherapy can only be performed by a certified medical doctor, you will never find Ultherapy in beauty salon or beauty spa.
Among the popular Dermatology and aesthetic Clinics in Malaysia offering Ultherapy are:
You can check out: Skin & Aesthetic Clinics offering Ultherapy in Malaysia for the full list of clinics.
Disclosure of off-labelled use:
This document contains the discussion of agents that are not indicated by the U.S. Food and Drug Administration. MalaysiaAesthetic.com and Merz Aesthetic do not recommend the use of any agent outside of the labelled indication. The opinion expressed in this document are those of the contributors and do not necessarily represent the general concensus of The Medical Aesthetic Society, and Merz Aesthetic. Please refer to the official prescribing information for each product for discussion of approved indications, contraindications and warnings.
Copyright, Legal Notice and Disclaimer:
The information presented in this document is not meant to serve as a guideline for patient management. This document is written based on personal experience and anecdotal evidence. The Author(s) Merz Aesthetic and MalaysiaAesthetic.com assume no responsibility for errors or omissions in this text. Prior to deciding on any treatment, discuss with your certified doctor about the indication, potential risk and contraindication of the treatment. MalaysiaAesthetic.com shall not be liable to anyone for any loss or injury caused in whole or in part by your use of this information, or for any decision you make or action you take in reliance on the information you received from this writing.